WORLD LONGEST CASTLE Burghausen
The World Longest Castle Burghausen is nestled on the Germany Austria border between the Salzacher fast flowing river and the Wöhrsee lake.
Castles are just so COOL!
...and if they have one of those traditional moats surrounding them they are incredible to visit and walk in and through.  It's like walking back into our medieval past.  The construction is incredible, a true of construction and engineering ingenuity. 
In Europe, whenever I get the chance to travel by train, it seems that every turn you take opens up to see another castle or some castle ruins perched up high on a local 'mountain-hilltop'.  A breathtaking sight every single time...
Checking In, Getting Settled In
First order of business with any travels or adventure trips packed with activities, after the transportation travels is 'Where will we stay?'  Got you covered here and at affordable prices across Europe check out the Jugendherbergers through any travel tourist towns.  Burghausen is the home of the Guinness book of records for the World Longest Castle Burghausen and has a great youth hostel that is also family friendly and of course for large groups or school trip groups.  Great food, activities, team-building programs and a small outdoor Basketball court and soccer field great even for Volleyball and some quick games of Ultimate frisbee. 
Accommodations..CHECK!
DAY 1 RECOMMENDATION: Travel to your accommodations and get yourself and your family fed and settled in.  Go outside on the youth hostel property for some outdoor sports or a fun walk around their 'backyard'.  We had some team building group organised activities before dinner time and a few hours of together time, games and off to bed.
RISE & SHINE

: Ropes and Water
Activities for FUN DAY 2 was about being up in the trees and high ropes, down on the ground with team building and out in the water kayaking.
Parker outdoor gave us an awesome bang for our buck with outdoor activities starting us off with a high ropes course up through the trees with different levels of challenge but a full run through of harness safety protocols and procedures. Just at Übersee edge at Chiemsee, they are very professional, it was all very high up and a great experience to boost our adventure start and have a lot of fun being outside in nature encouraging each other and having a blast, despite myself being a little leery of heights.
I gotta say: WOW!
It felt great building up confidence up there 1-on-1 and what a breathtaking view!
Great experience. 
Will definitely do this again!
From 1 activity to the next, down to the ground working together in some really neat team building activities co-ordinating with our team pitted against the other half with 4 different engaging activities. 
Tired and needing 'RECHARGING' lunch break came just in time, Mmmm.

Lunch break and recharging over next we were off to the water and picking up kayak partners in 2 to 3 man kayaks prepped and ready to hit the waters of Chiemsee.  What a beautiful day?  Paddling is so peaceful out on the water, the weather held up great and a few history breaks about the 2nd largest lake in all of Germany and the famed 'Fraueninsel' Woman Island.
A full day for sure.
Time to get back to our rooms, have dinner, play some games, some outdoor fun and off to bed to get rested and ready for another day.
DAY 2 RECOMMENDATION: Take up on the offers of Parker Outdoor and do their collection of team building pitting one team against another, high ropes all together and off onto the water for a teamed kayaking tour through the shores of Chiemsee.  Outdoor fun back at your lodgings, some games and resting up for another exciting adventure day where the longest castle in the world can be toured and explored. Enjoy these activities in the area before going to the World longest castle Burghausen 
HIKE DAY & STEAMBOAT CHIEMSEE
This day started with a hike through what is called the Weißbachschlucht trail running alongside a mountain run-off stream that was 'ICY' cold at around 4 degrees.  Man was it ever refreshing to step into it and in one section all the way down to your neck...Brrrr.
The winding trail is very well constructed for these types of tourist hikes or 'Wanderen'.  some sections you have to take care as the path can get tricky up against sheer walls of mountain rock and a precipice down the side into the stream or mini ravines.  Canyoning would be very cool in some of these sections...
...but Alas, that will be something to save for our next adventure...
Quick break for lunch back at our rooms and off to Chiemsee the 2nd largest lake in all of Germany to take a steamboat ferry ride across the lake to the island called the Fraueninsel which as history would teach us was an island of only women...across from the island to the other shore is where the monk's monastery was in the middle ages and still stands today.
so this island...
...you guessed it...
This is where all of the nuns lived!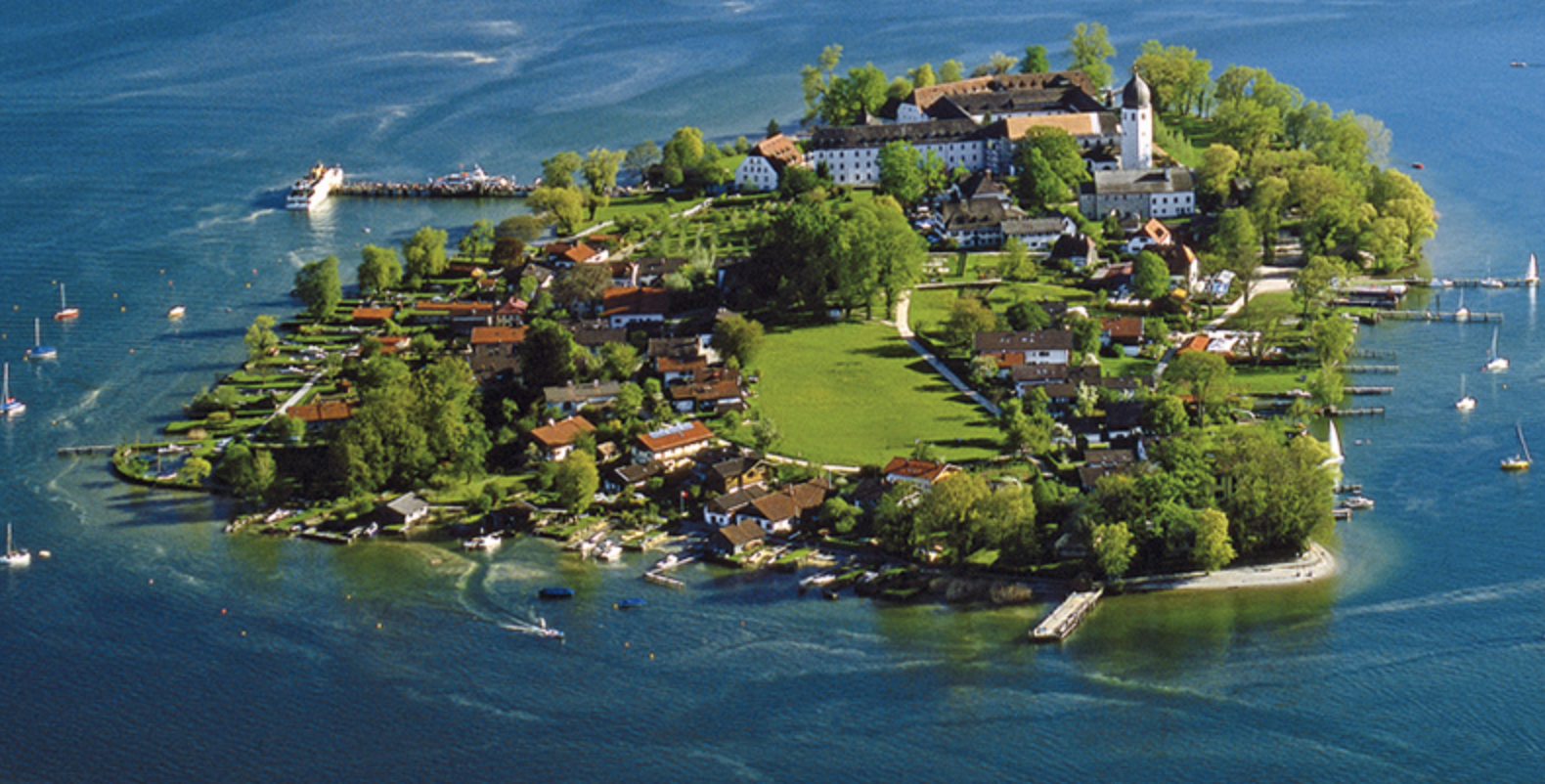 The island really is spectacular with a tourist pathway all the way around it, passing by all of the quaint shops.  I thoroughly enjoyed walking the tour and then to jog around the island, admittedly a couple of times, seeing the houses and shops along the way.  A little ice cream and cafe break and then it's a...
Short ferry boat ride back across the lake and a short bus trip back to our rooms ready for dinner time.
This was another packed day of adventure!
DAY 3 RECOMMENDATION: Take the Hike to Weißbachschlucht near Schneizlreuth with the winding hiking trail alongside the mountain stream, though it feels 'freezing' it is totally worth a short 'wading' time in the stream.
Have your lunch break back at your rooms and then go for the tour and Steam boat ride to Chiemsee from Übersee to visit the Fraueninsel.  The tour was very interesting, the swimming was refreshing and the exploring of the sights and shops was a great memorable experience.
World Longest Castle Burghausen is next on the adventure agenda! 
Ready to go for 1 more packed day!
WORLD LONGEST CASTLE BURGHAUSEN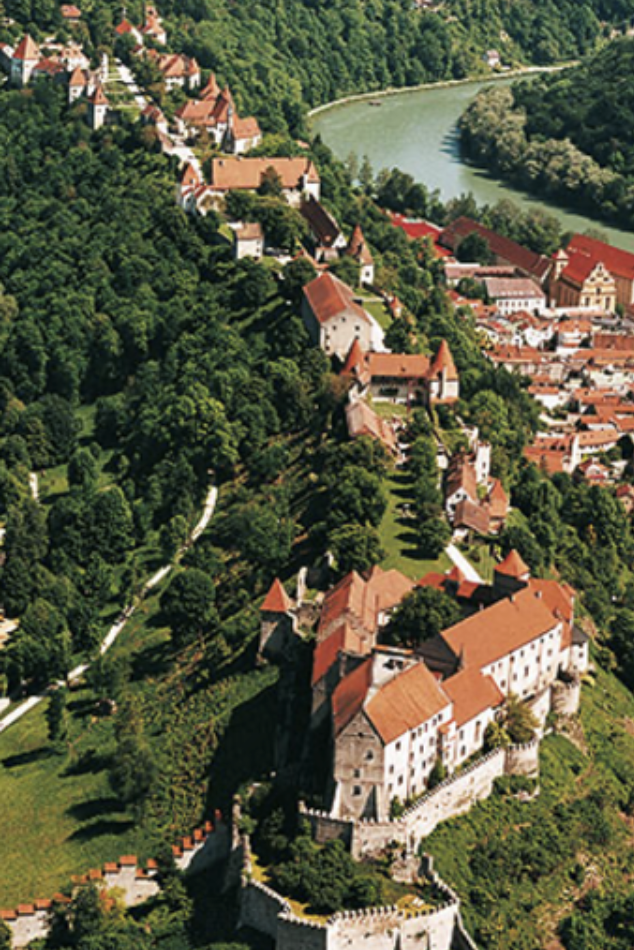 This castle is quite incredible, it is the world's longest castle home to Burghausen and it measures over a full kilometer long nestled between the Salzach river that borders right down the middle of it, Germany and Austria with lots of medieval history in the progressive construction and extension work.  Taking the tour up alongside the castle 'road climb' is picturesques as you gaze upwards to the castle.  It is even possible to 'rent' castle rooms as an apartment accommodation--how cool is that...no really 'How COOL is that', it will be kinda COLD!  Walking through the castle was a really neat experience to see so 'much' of a castle and it just kept on going, on and on. The World Longest Castle Burghausen has so many features and buildings it alone would take days to go through everything but what a great taster.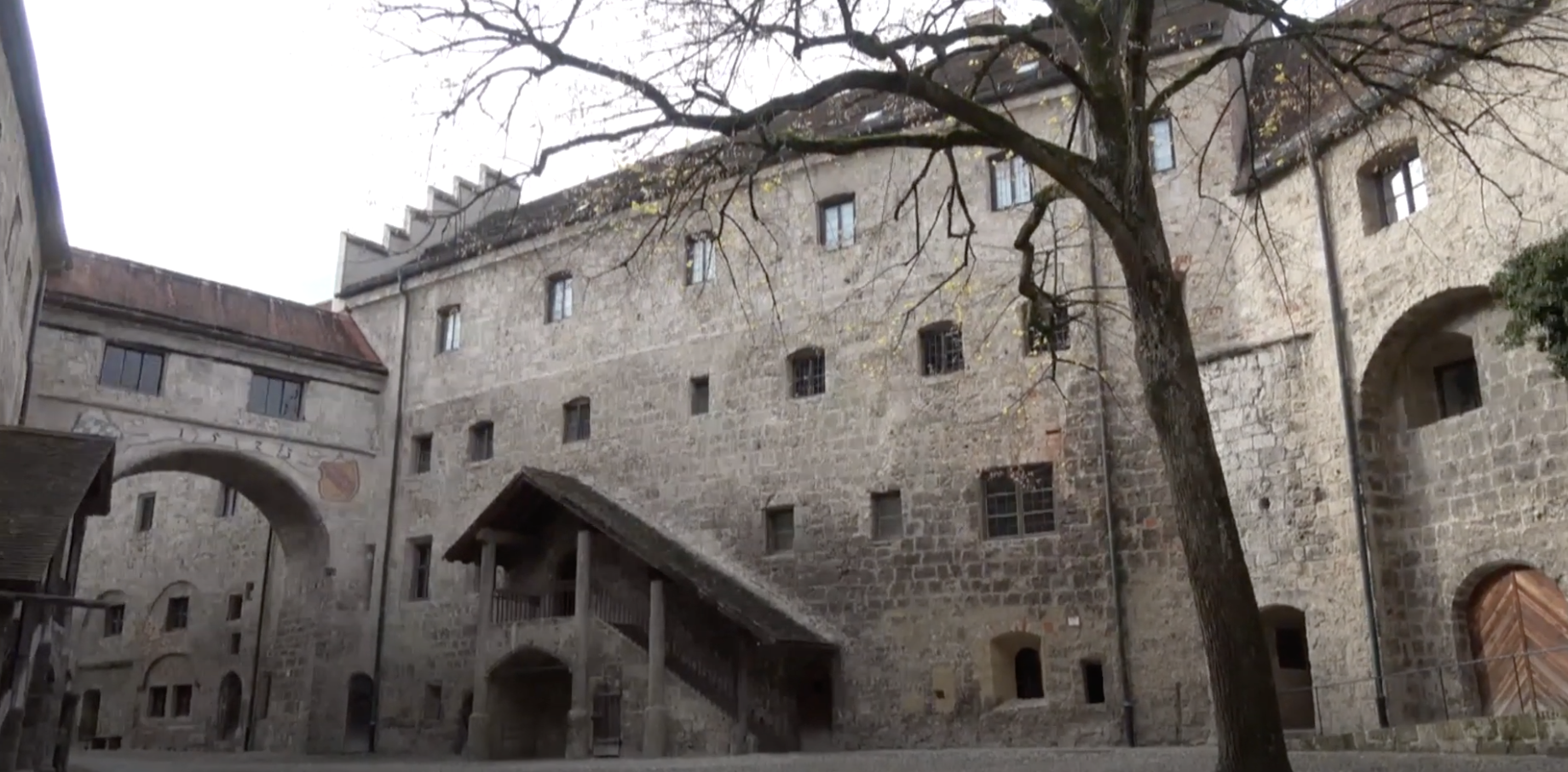 Just one of the courtyards to experience on the tour through the longest castle in the world.  Every step really felt like travelling back in time to the medieval times.  The medieval shows and festivals in town and in the castle must be incredible.  This will be for another trips adventure.  What a great day so far.
Break for lunch back at our rooms in the hostel and then expedition!
One final exploration for the day: Salzach river expedition
The World longest castle Burghause is beside the old town or 'Altstadt' running right along the Salzach river.  A walking, hiking trail tour along the Austrian side of the Salzach river made of limestone that literally is dripping into the river with it's distinctive 'limestone' coloration.  Walking along the river bank through the forest trails was a lot of fun and kids enjoy this exploring.   No quite 'Rapids' but the current is a strong one and flowed strongly over the rock outcroppings in the picture below--not the safest place to walk out, even if they are all huge boulders.
Back to our accommodations to eat dinner, rest and recharge.
Another packed day of new experiences.
DAY 4 RECOMMENDATION: Experience the full length of the World's longest castle with a hike up it's side trails and stairs and enjoy a tour through it, break for lunch back at your rooms and take a trail hiking expedition on the Austrian side of the Salzach river.
Take an evening stroll through the old town shops and enjoy a cafe or  restaurent sit down with the family.
Arrange a late evening bonfire pit with smores, open fire backed bread and roasting marshmallows and spider dog wieners. Check with your herberger as many are set up to fulfil this last night's stay activity
SWIM at Wöhrsee before you go!


Last adventure pieces before you go:
DAY 5 RECOMMENDATION: Go a for a swim in Wöhrsee at the outdoor pool with the whole family with a view to the Burghausen Castle.
Take some time through the shops in the old town walkways and have a sit down cafe time before you go.
Enjoy all aspects of your trip and have a safe journey to your adventures.
SENDING OFF

: NEW Experience...check




Time to travel back and leave this unique castle experience and store the adventure in your memories.  Check out some of the different experiences and activities you can add into your trip and contact the hostels for what they offer and of course what else they could recommend to you for the time of the year as there are always many different events taking place through the town and up at the castle.
To book directly for the World Longest Castle Burghausen, Here is a great place to start your accommodation search and go ahead and take a quick click and: Click this Burghausen Hostel link
If you are booking in with a hostel or a Jugendherberger in Germany or Europe Click on this Organized Hostel Collection link to search through the different possibilities for hostels throughout Germany.  these are standard accommodations most often set up with eating and pretty secure with small groups.
Enjoy whatever adventure you and your family go on...

Keep growing closer together and building up your family relationships with one another, and...
...As always, with Love from our Family to Yours...